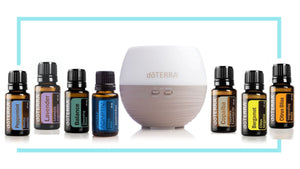 BrainEssentials
Complete Brain Essentials Kit
Sale price Price $268.50 Regular price Unit price / per
Complete Brain Essentials:
This kit has been created according to the research found on the essential oils for supporting complete brain health and encompasses the neural limbic delivery method of treatment for the easiest and best application in a home or office setting. 
The kit includes about a 3 month supply of protocols depending on individual use. 
*This purchase is wholesale pricing from doTERRA and includes a personalized wholesale account with doTERRA. This order will ship directly fro doTERRA. 
Complete Brain Essentials Kit includes:  
1 Diffuser
15ml Lavender oil
15ml Citrus Bliss oil
15ml Peppermint
15ml Adaptiv™ Calming blend
15ml Balance
15ml Bergamot
15ml Copaiba