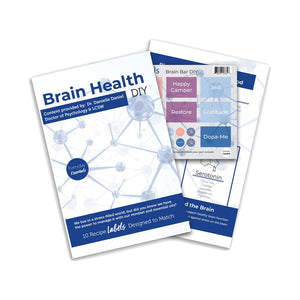 Your Oil Tools
Brain Health Recipes & Labels DIY for Essential Oils
Sale price Price $2.99 Regular price Unit price / per
With the help of Dr. Danielle Daniel, this DIY kit is a great way to learn more about how essential oils can benefit the overall function of the human brain. This kit is a great way to improve your inner you!
With included recipes, helpful tips & tricks, and so much more!

Details
Contents: (1) DIY Kit Recipe Bi-Fold, (1) Sheet of Labels and Lid Stickers, (2) Bonus Lid Stickers
Extra labels for this recipe sheet can be purchased here.
Recipes Included: Magic Memory, Poised, Happy Camper, Jedi, Mind-Zen, Dopa-Me, High-Vibe, Gratitude, Restore, Safe Harbor
Directions: 

Follow the recipes, fill your roller/spray bottle, label your roller bottle using one of the blends labels, and put one of the corresponding lid stickers on the cap. 
Not included but needed:
Carrier Oils:
Containers:
10 ml roller bottle
2 oz spray bottle
Essential Oils: 
Lavender
Orange
Clary Sage
Sandalwood
Peppermint
Geranium
Patchouli
Rosemary
Magnolia
Tangerine
Rose
Bergamot
Ylang Ylang
Clove
Roman Chamomile
Neroli
Frankincense
Lemon
Siberian Fir
Petitgrain
Cedarwood
Juniper Berry
Spearmint
Vetiver
Additional Ingredients: