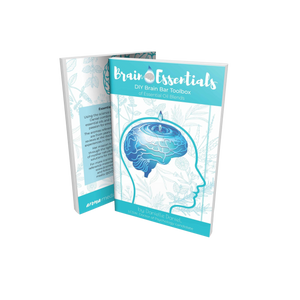 BRAINHEALTH
Brain Essentials Blend Booklet
Sale price Price $8.99 Regular price Unit price / per
How do Essential Oils affect the brain? They:
Influence mood and emotions
Support healthy brain function
Protect neurons
Protect against stress on the brain
Support neurotransmitters
Using the science of nature, Danielle Daniel combines research on essential oils and the brain with her passion for emotional wellness. The aromas referenced in this booklet are from years of her research reviews at the doctorate level and her experiences in the mental health field. Her mission is to bring hope through the light and intelligence of mother nature to those who seek solutions for mental well-being. 
Along with information on essential oils and the brain, best application methods, and the daily use of essential oils, this booklet contains detailed information and recipes for: mood, stress, memory, kids, women, and men. 
Includes: One (1) 24 page booklet